Incksalonius "Truly Yours" Video Single Exclusive Interview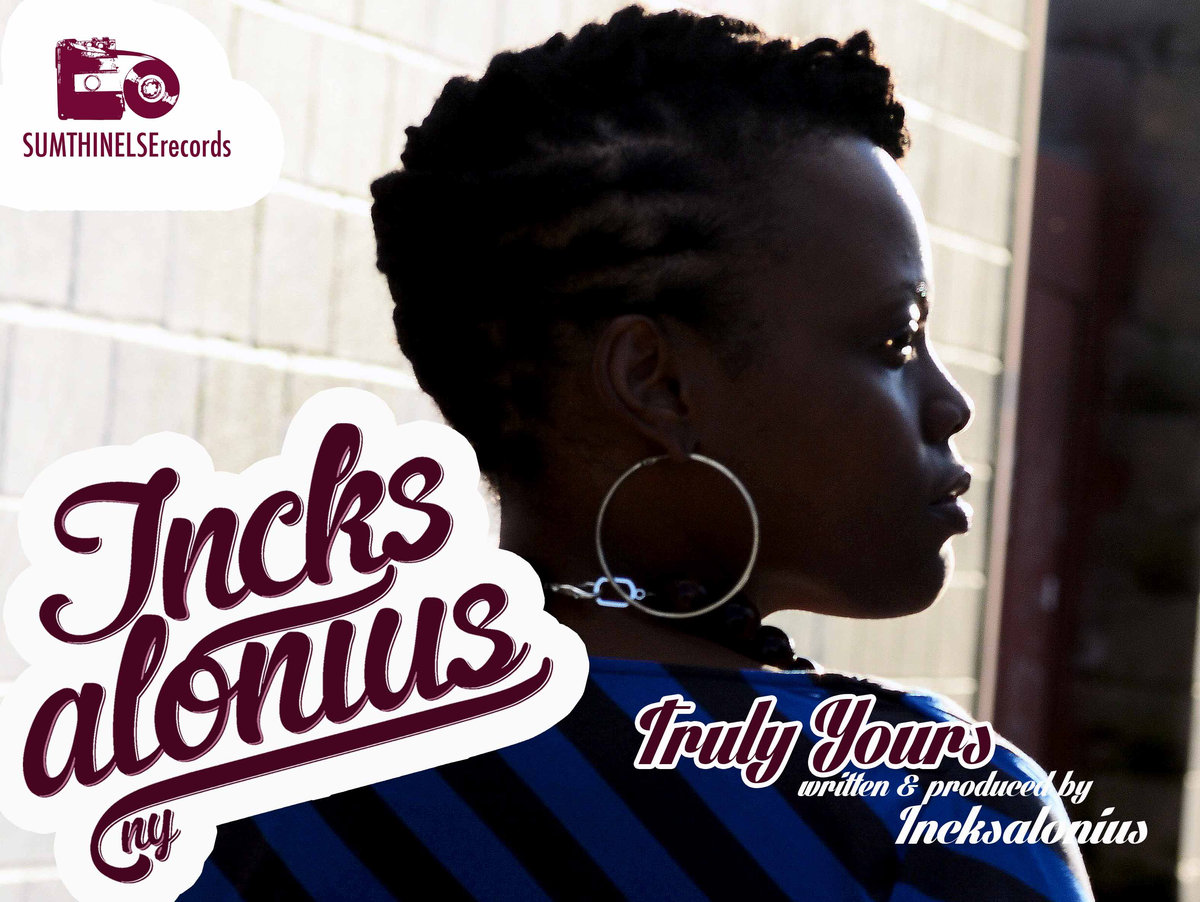 Incksalonius "Truly Yours" Video Single Exclusive Interview
The image posted above, is the cover-art for the Incksalonius "Truly Yours" project. Incksalonius is an upstate New York artist representing hip hop culture and music. We caught up with the NY based female emcee to find out whats been going down.
Q. Big Noise: Where are you from?
A. INCKS: I'm from Brooklyn;  BK all day! lol. However,  my fam is from Barbados so I've spent some time in Barbados as a child.  My upbringing is mixed with American and Carribean Culture.
Q. Big Noise: How long have you been making music?
A. INCKS: I've been making music most of my life;  I've always been a writer since a child. I began making beats when I was an Intern at D&D Studios.  If  I  say what year that was,  I may give myself away, lol.  But I've been making music professionally since 2000.
Q. Big Noise: What was your very first memory of the culture?
A. INCKS: Pssh, I remember tryna be like Salt N Pepa in the "Push it" video.  My younger cousin and I wanted to be like them so bad that I convinced my Mom around that time to buy me a two finger ring so that I could at least have a little bit of their style. From there,  I just remember making a bunch of demo pause tapes rapping over other people's songs as a kid and snail mailing them to these labels back in the 80's,  lol. There was this one time that Next Plateau sent me a letter back about receiving my demo.  My demo was wack but as a kid that meant alot to me to at least get a response from them at that age…
Q. Big Noise: Your all time favorite hip hop record or artist?
A. INCKS:It's hard to name just one but "We've got the Jazz" by Tribe.  Alotta people mention Tribe,  I know but that was the song that changed my perspective on Hip Hop music ..period. My second choice would be "Mass Appeal" by Gangstarr….
Q. Big Noise: Your new video "Truly Yours" how has the response been?
A. INCKS:The response has been amazing! I'd like to thank the fans in the UK,  Belgium, the Netherlands and abroad for sharing the music as well as the video. The video is currently in rotation on the video show "Quality Content" which airs on BronxNet in the Bronx, NY.
Q. Big Noise: Are you currently signed to a label?
A. INCKS:Not exclusively. I previously signed myself exclusively to my prior label Real Phresh Music which is currently going through some structural changes. Other than that, I'm working with several labels in Europe for one-off releases in 2014.  Keep an eye out for those releases!
Q. Big Noise: We know you MC/RAP and produce beats ..what else in the game do you do?
A. INCKS: Alotta folks have an idea but don't know that I also produce and direct music videos and short documentaries. Originally, I studied video and television production when I was an undergraduate at Long Island University. I did aotta freelance directing once I got out of school up until current. I can't spill all the details yet but I'm currently producing a new documentary slated for release sometime next year.
Q. Big Noise: Where do you see yourself one year from now?
A. INCKS: I actually had to think about that question for a minute.  I try to live more in the moment than in the future.  I'd say though, that I see myself fully giving back to my community as an Arts Educator within the next year. Musically,  I see myself producing much more for other Artists.
Q. Big Noise: What's on your playlist right now?
A. INCKS: Anyone who knows me knows that I listen to alot of different shit. Right now I'm vibin' out to some Conya Doss, Tall Black Guy, Dr.  Who Dat,  Dj Preservation's new joint has me in a retro 'BlackStar' vibe. Rapsody's new mixtape is pretty fresh. I'm also listening to Sean Price,  Ka and a few Roc Marciano joints here 'n there…..believe it or not, I'm also getting into this new kid Chance the Rapper, lol.  He makes fun joints;  some of his stuff I bug out to when I hit the gym.
Q. Big Noise: Where can we purchase your music?
A. INCKS: You can cop my new joints at incksalonius.bandcamp.com. My prior releases you can find on realphreshmusic.bandcamp.com or on iTunes.
Q. Big Noise: Any live performances coming up?
A. INCKS: Yeah! November 7th! Everyone come out to one of the most artsy venues in Brooklyn;  Free Candy on Atlantic Avenue in Brooklyn.  Follow me on Twitter for on-going updates on the show.
Q. Big Noise: Any plans for touring over seas and how was your last tour?
A. INCKS: The last tour was was dope! I had so much fun when I was out there.  It was a fast paced tour this time around so I didn't get a chance to sight see as much as I usually do when I go to Belgium and Holland but I met up with several new producers and met a handful of really cool people. It's always good vibes when I go to Europe though. I also shot a music video when I was there with a cat named Felix Andrade. He did the graphics for my current video "Truly Yours". I'm gonna be dropping the new single/video on my birthday in December. Next year I do plan on hittin up the UK and France!
Q. Big Noise: Any hobbies?
A. INCKS: Haha, yeeeah. I have a knack for making my own lotions for the skin and rinses for Locs. Got into doing this because I got so frustrated spending all of my money on these non-effective products that we put on our skin and into our hair. Being a natural, I figured out ways of making my own products that are twice as better and more natural that what you buy in the stores just with the ingredients I cook with….ask me the last time I've been to the store to ever buy Palmer's Cocoa butter? MONTHS..lol.  I keep an aloe house plant that I mix with several herbs that I also cook with to make rinses to keep my locs strong and healthy.
Q. Big Noise: Have any last words or shout outs?
A. INCKS: Yeah, many thank yous to everyone supporting me and helping me spread the message to the world that it's okay to be yourself and say what you feel! Peace and Luv to all of my fans, past and current. I'm releasing "Truly Yours" and "Baptizm" on Vinyl in November; be sure to hit up my Bandcamp page to pre-order it and receive a free download of both songs (including bonus material). Major Shouts to MRC Promotions, Big Noise Radio, and all the radio shows and blogs showin' me luv!
Hip Hop Emcee Incksalonius "Truly Yours" Video Single | Indie Music Video
Dedicated to everyone who stands for something! Directed by Austin Dancy Graphics by Felix Andrade Appearances by Kim Jim-Lee, Just Sayin, Tubbs the Ghost & Crave Ent.