Elzhi "Seven Times Down Eight Times Up" by Fat Beats Records
Elzhi "Seven Times Down Eight Times Up" by Fat Beats Records
You may know eLZhi from his affiliation with his former rap group Slum Village, giving us hits like Selfish, Fall In Love, Tainted and The Look Of Love. Perhaps, you've followed him from his early days in Detroit's rap circles, his first independent release Witness My Growth produced by Nick Speed. Check out the CD's below, some of the first music copped on Myspace Music for spins on Big Noise Radio, Detroit stand up! Or… you are in the rare audience that hasn't yet had the pleasure of listening to eLZhi, the rapper's rapper. Whichever category you fall under, Seven Times Down Eight Times Up is a stellar project! Trust us, your ears will thank you. Amazing sound quality, dope beats, organic timing, immaculate lyrics, it's all there!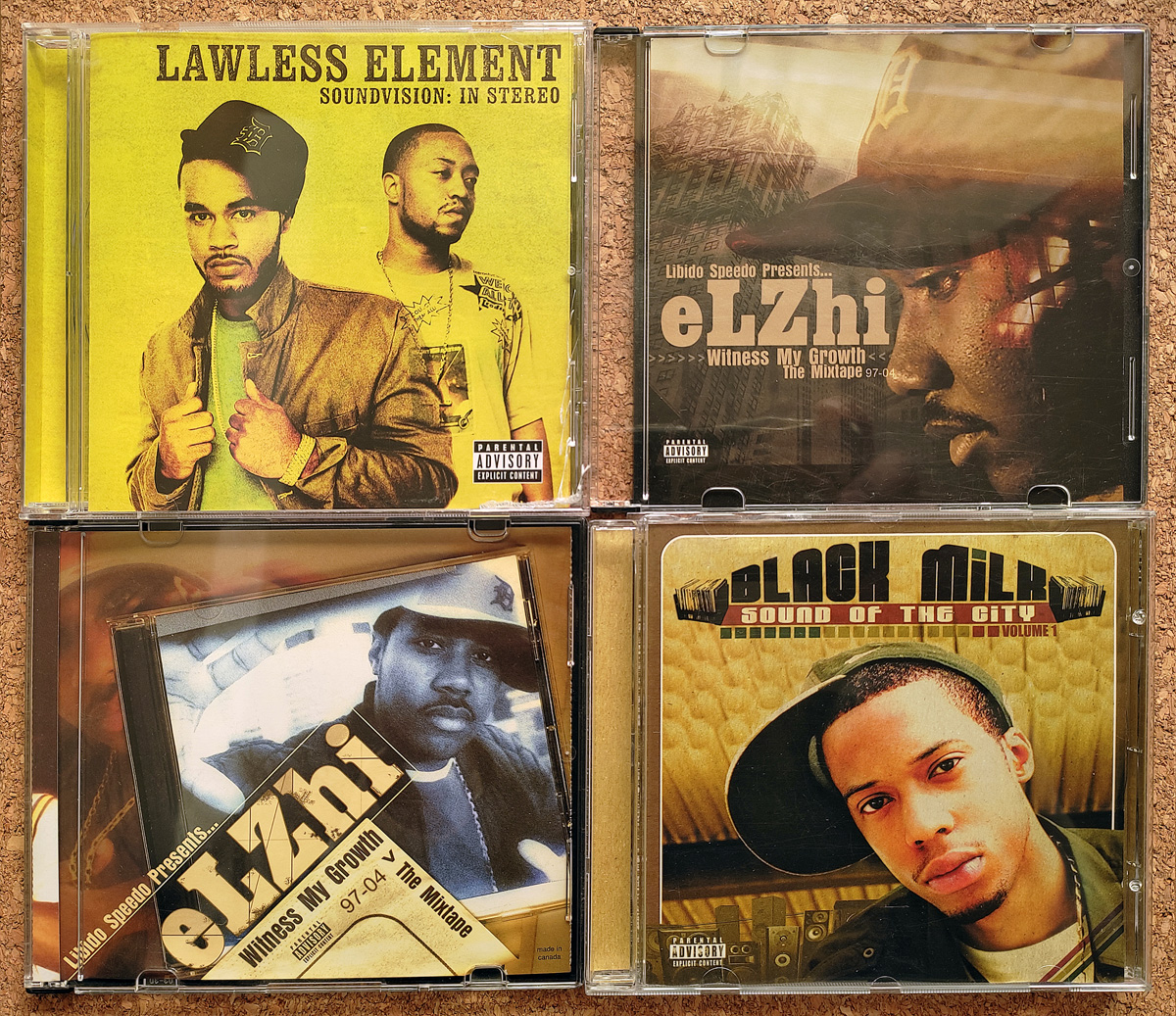 In his most recent project Seven Times Down Eight Times Up, released in September of 2020 by Fat Beats Records. eLZhi and JR Swiftz present some of his best work to date. Fat Beats Records has historically supported quality hip hop music. Seven Times Down Eight Times Up is the mantra for a year with a lot of downs. The album has a lo-fi vibe, the sonic's are soulful, jazzy and chill. It sounds like a rainy day, but not in a sad or bad way. Some days you like rain because you can sit back, roll a spliff, light it and watch the rain. That feeling comes with Seven Times Down Eight Times Up, one of the best hip hop albums in 2020.
eLZhi always comes with a unique sound. The album has elements of dark humor and cultural commentary. The content tells a story… it's short and to the point, yet engaging. Guns & Boats is a hypothetical film release, telling the tale of street-life gone bad, a story that we still see play out all too often. Fes Rock's lyrics pull you in, taking you on a journey through the film storyboard. Many of the songs on the project have a soulful vibe to them, elevating the feel of the album. The beat production by JZ Swiftz is a perfect example of how hip hop music is evolving, arrangements have become more and more musical.
eLZhi "Seven Times Down Eight Times Up" Produced by JR Swiftz | Album on Bandcamp
Published on September 25, 2020: Lyrics by eLZhi "Seven Times Down Eight Times Up" Produced by JR Swiftz, Released by Fat Beats Records via Los Angeles, California.
Light One Write One is one of the stand out tracks on the album. The production and the rhyme flow, confirming eLZhi is no doubt the rappers rapper! "I hope that you teachin' your kids the worth that they have when they don't have money," a chilling line from Potential, something like an ode to haters. Zhi calls out people from the past who didn't believe in his craft, and people who doubted or laughed at him. It's obvious his success is his greatest revenge. Then again, every rapper deserves a track to call out those who doubted. However, it's not a diss song. It's a proclamation of success built on hard work.
GOD is another track that speaks to that dark humor. The entire track is a play on words. For religious folks, God is probably the first thing that comes to mind. However, the wordplay and message of this song is a challenge, not just to Christians, but to society as a whole. In the chorus, they ask, "What is it you stand for, GOD, Gold over Diamonds, GOD…." and I think the meaning is that in life, often, we seek everything BUT God (whatever God is to you).
Fat Beats Records Release Notes: Elzhi, the "Syllable Sensei," is back again with a highly anticipated release titled "Seven Times Down Eight Times Up," This 12-track LP is a collage of memories and metaphors layered atop beats crafted by up-and-coming producer JR Swiftz. With collabs from Detroit artists, Monica Blaire and Fes Rock on two of the album's stand-out tracks, Elzhi's new masterpiece showcases his ability to create meaningful concepts while Detroit's own comedian and "Real Hip Hop Advocate" Foolish provides commentary throughout the album.
Give "Seven Time Down Eight Times Up" a listen. Something like timely music that we didn't know we needed, eLZhi gives us thought provoking stories and scenery, a little sprinkle of comedy and of course bars and word-play. A positive raw project, plus the chill vibe is a win. BNR has been supporting eLZhi since the beginning. Please let us know what you think.