Phoniks "Time Goes By" Hip-Hop Jazz Instrumental Beat Album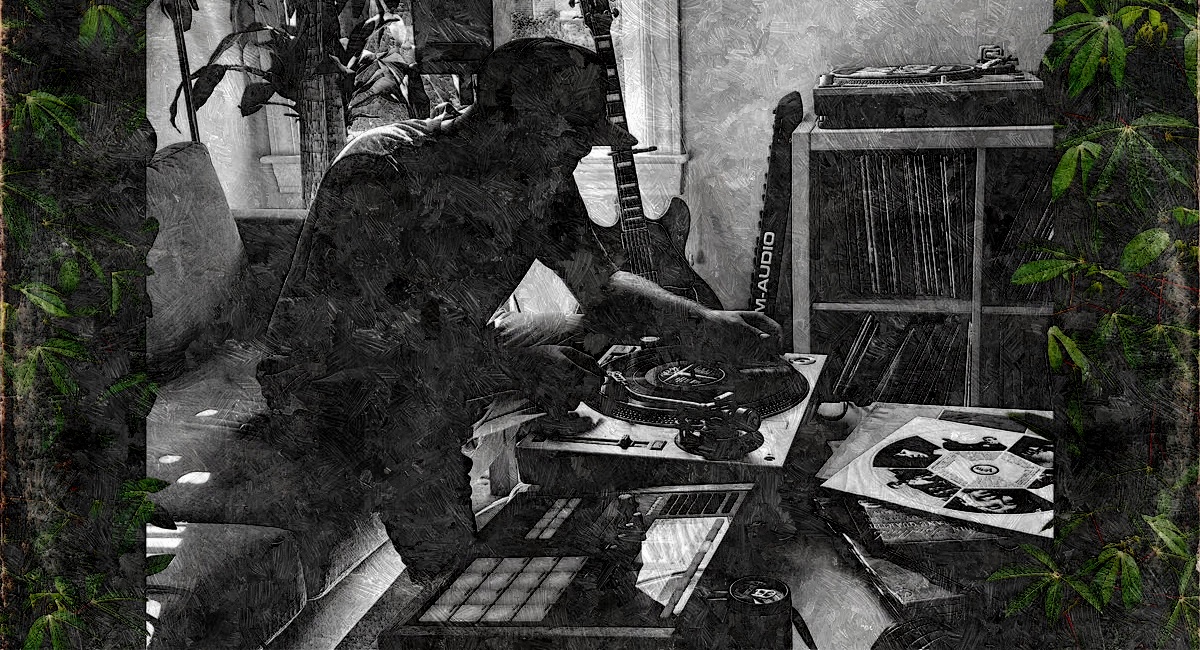 Phoniks "Time Goes By" Hip-Hop Jazz Instrumental Beat Album
Phoniks dazzles with the Time Goes By album… We've seen Phoniks produce tracks alongside his Don't Sleep's label mates Awon and Tiff The Gift. However, "Time Goes By" is special as it lets him show off his raw production skills. The first track Time Goes By opens with soft jazzy tones, even though it's not a holiday record, the feeling it gives is so warm. It creates a mood similar to sitting in a living room sipping hot cocoa and watching the snowfall. Echoing the same vibe, working from the couch in front of the coffee table. Phoniks of Don't Sleep Records, crafts chill lofi beats in his cozy living room studio.
The album's vibe is calm and mellow in true Phonik-form. It's riddled with soundbites and samples that are long enough to make an impact, but short enough – not to control the album's narrative. They give it personality on many levels. The way Worlds Collide preludes and then transitions into Raindrops is special – reminding you of one person with two moods.
About Time is the song with the most vocals. The one sampled line is repeated, "It's about time, I was on some old hurry up and wait. Tryna bust out the gate and beat fate." The album is complete with a tribute to Kobe Bryant. T24rs In Heav8n starts with clips from that tragic day announcing the NBA superstar's death and the death of his daughter GiGi. The track features soundbites from reporters and people who revered Kobe for his work ethic and relentless tenacity that got him to the top.
Phoniks "Time Goes By" Beat Album Produced by Phoniks | Bandcamp Audio Stream
Published in February 2020: Phoniks "Time Goes By" Produced by Phoniks, Released by Don't Sleep Records.
Time Goes by… All-in-all it's obvious Phoniks is one chill cat who enjoys making even more chill beats, by blending classic samples with modern jazz tones. What's crazy and unique is even without a lot of vocals, Time Goes By is still better than a lot of music that comes out today. The production and the order of the tracks flow in a way that tells a story without words. You can compare it to silent movies like "once upon a time" where audiences had to fill in the blanks. The vocal-less project does leave some space to fill, but nothing about it is blank. Whether your're an emcee or a vocalist, this project will no doubt "get you open."
The album's production is real feel good music. I bobbed my head the entire way through and recommend you have a listen. Chill-hop instrumental lofi beats are a great way to catch a vibe, without catching the strays of negativity that some rap lyrics bring. Follow Phoniks' music career as he continues to grow and work with other artists.
Phoniks' skills are exceptional considering that he's new to music production. He tells his story on the label's documentary Underdogs. It details how Don't Sleep Records came to be. Find the documentary on Red Bull TV. Don't let the new-school fool you though, Phoniks' sound has gotten him a nice following and landed him some sweet Don't Sleep projects.
Bandcamp Album Notes: Coming off the heels of being highlighted in a new Netflix documentary "Underdogs" Don't Sleep Records artist Phoniks is back at work releasing his new atmospheric instrumental tape titled "Time Goes By". Phoniks weaves foreign jazz loops, soundtracks and soul b-sides together with apocalyptic movie samples, DJ cuts and vinyl drums to form a cohesive 18-track album. Phoniks continues to evolve his sound, bringing more live instruments into the mix than on any of his previous projects.
The album opens with jazz chords played off a midi keyboard, using sound design techniques to make them feel like they were sampled out of a dusty attic somewhere, before homogenizing with real vinyl loops as the beat drops. Compositions such as "One Time" ft. DJ Eveready are completely sample-free. Despite the addition of more instruments, it's still the crate digging ability and ear for melodic jazz samples that drives the sound across the albums 41 minute runtime. Available on CD, Vinyl and Cassette, Phoniks continues to bring his listeners on a journey that began with his debut solo album "Down To Earth" last October. Don't Sleep.