Bronx Producer "Araab Muzik" Rhythm Roulette Session | DITC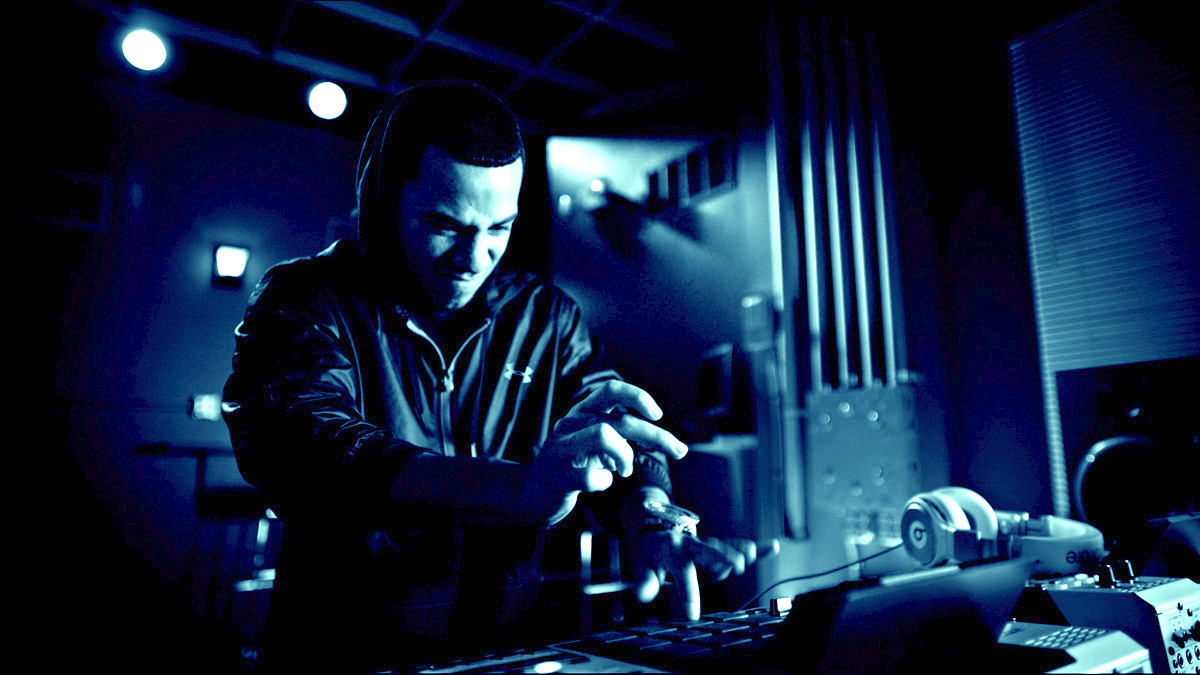 Bronx Producer "Araab Muzik" Rhythm Roulette Session | DITC
Rhythm Roulette is one of the best Hip-Hop series to hit YouTube. Giving producers a way to show off their skills, while giving hip-hop heads an inside look at how some of our favorite producers go to work, making magic in the studio, it's a winning concept. AraabMuzik is a critically acclaimed music producer with a unique sound. Coming up with the likes of Swizz Beats, Fabulous, and working with artists like Cam'Ron of Dipset from an early age, you can almost expect him to go crazy during his session, as he mashes the MPC pads. Let's explore Araab Muzik Rhythm Roulette Beat Production Master At Work together.
In the Bronx, at Moodies' Records, Araab Blinds himself and begins the selection process. After selecting three CDs, (the man admits he doesn't work with vinyl "like that"), he reveals he's pulled Diana Ross and the Supremes, The Dramatics, and Blue Magic. The history between hip-hop and Motown hits run deep, and even Araab admits he grew up on Motown getting his first experience with mixing those high pitch voices. Detroit is the birthplace of soul music.
He starts with The Dramatics, and then Diana Ross and the Supremes, and though they have a few beats that slap, you can tell neither give him the vibe he needs for an instrumental with his trademark sound. As he's going through the Blue Magic Track's you can almost see his posture change as he finds the sample he wants to use, and the episode only gets better from there. Araab plays the chop over the beat a few times confirming his selection.
Without spoiling the episode, I can say this may be the closest many of us will ever get to seeing a musical genius in action. He manipulates his Akai MPC 2500 like a piano, effortlessly moving his fingers around the board, building the perfect combination of voice and sound. The best part of the episode might be towards the end when you see AraabMuzik actually start to feel the beat and bob his head, just as any viewer is probably bobbing their head while watching. This episode of Rhythm Roulette is a much watch for any aspiring producers, hip-hops heads, casual fans, and anyone in between.
Check it out at the link below, and don't forget when you comment, tell them Big Noise Radio sent you! Peep the new custom MPC 2000XL design, we also provide accessories for the Akai MPC 2500 and other classic drum machines. Peace!
Araab Muzik Rhythm Roulette Beat Production Master At Work | YouTube Video
Published on October 2016: Araab Muzik Rhythm Roulette Beat Production Master At Work, Produced by Mass Appeal, Released by Mass Appeal, Directed by Mass Appeal, Filmed by Mass Appeal.
Project Info via Mass Appeal: If you start making music for the Diplomats before you're supposed to graduate from high school, you better pray that you're consistently at the top of your game. That's what araabMUZIK has been doing and then some. The Rhode Island producer has made a name for himself, in more than one way. His live MPC sets are dizzying and his imagination behind the boards is still expanding. He also miraculously survived a gunshot to the head in an attempted robbery in Harlem earlier in February. But he pushed through and released his album Dream World in July and produced Joe Budden's last album Rage & The Machine.
As you can assume, it was only a matter of time before we got araab for Rhythm Roulette. We hit up Moodies Records in the Bronx and ended up with CDs from Blue Magic, Diana Ross & The Supremes, and The Dramatics (he's not messing with vinyl). Then back at the studio with his AKAI MPC, araabMUZIK chops up samples and does what he does best. Layer after layer, he builds in his signature sound and producer drops for what could be the intro to the next Dipset album.
Artist Contact Info:
AraabMuzik | Twitter | Facebook
Power to the people… Keep it locked to Big Noise Radio for authentic hip-hop music and culture from AraabMuzik!