Damu The Fudgemunk "Supply For Demand" Cassette & Vinyl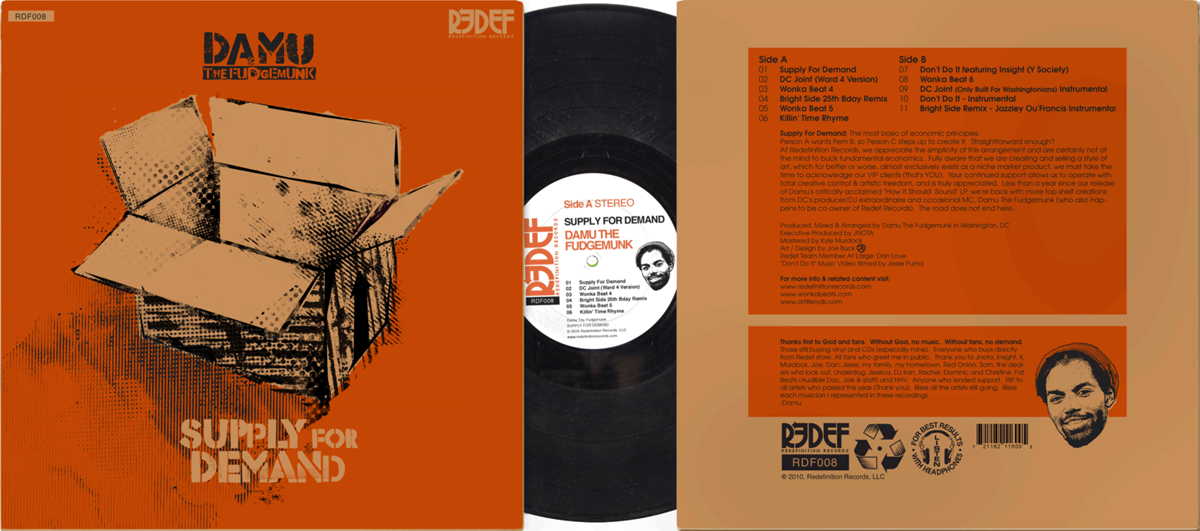 Damu The Fudgemunk "Supply For Demand" Cassette & Vinyl
The Strictly Cassette X Redef Collaboration continues with Damu The Fudgemunk's Supply for Demand. Like all tapes in this critically acclaimed series (Klaus Layer, K-Def, Grap Luva), we are giving away complete rips of each tape. Download the whole tape rip via Bandcamp for free (support the artist and name your price). TAPE, VINYL or CD via Redefinition Records 2010. Now available via digital Bandcamp album.
Supply For Demand is the latest 2010 release from producer / DJ / MC Damu The Fudgemunk. The title is a nod to his growing and loyal fanbase, whom this album caters to. Following the successful release of Damu's critically acclaimed instrumental LP, How It Should Sound (April 2010), Damu & Redefinition Records felt it was only right to quickly return with new music, designed to satisfy his current audience while converting new listeners with some unexpected content.
The tape was recorded using a vintage Sony TC-FX420R cassette player. Damu's 2010 classic, Supply For Demand, finally gets a cassette release. Tape includes a 2 panel printed insert with handwritten tracklist by Damu himself. Get this album on vinyl, cd or cassette now at Redef Records.
Damu The Fudgemunk "Supply For Demand" Digital Album | Bandcamp Audio
Released by Redef Records Nov, 2010. Damu's full capability is on display here; from his intricate scratching sections, to his signature sonic arrangements. Music produced by Damu The Fudgemunk.
SUPPLY FOR DEMAND TRACK-LIST
SIDE A:
01 – Supply For Demand
02 – DC Joint (Ward 4 Version) (Vocals by Damu)
03 – Wonka Beat 4
04 – Bright Side 25th Bday Remix (Vocals by Damu)
05 – Wonka Beat 5
06 – Killin' Time Rhyme (Vocals by Damu)
SIDE B:
07 – Don't Do It (Y Society, Vocals by Insight)
08 – Wonka Beat 6
09 – DC Joint (Only Built For Washingtonians) (Instrumental)
10 – Don't Do It (Instrumental)
11 – Bright Side Remix (Jazzley Ou'Francis Instrumental)