Akai Pro Unveils Beat Maker "iMPC" Pro 2 Music Production App for iPad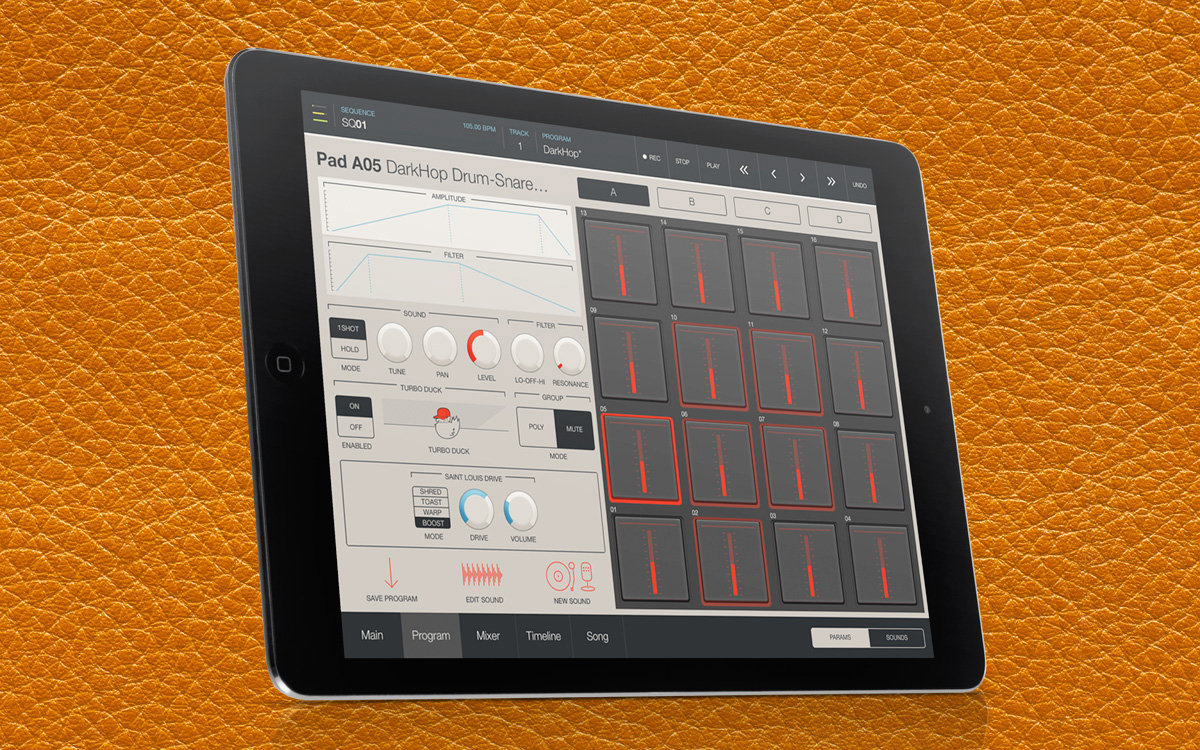 Akai Pro Unveils Beat Maker "iMPC" Pro 2 Music Production App for iPad
Akai Pro, the pioneering name behind the iconic MPC (Music Production Center) series, continues to revolutionize the world of music production with the release of their groundbreaking "iMPC" Pro 2 app for the iPad. This innovative music app brings the legendary performance, timing, and sound quality of Akai's MPC drum machine family into the digital realm, catering to both seasoned beat-makers and newcomers alike. The Akai Professional MPC series has enjoyed enduring popularity among producers of all generations, drawing them in with its unmatched performance, precision timing, and distinctive sound generation.
While there's a resurgence of interest in the original MPC hardware for its sound and timing advantages over software sequencers, there's also a definite need for software-based beat machines to streamline workflow and enhance creative freedom. Enter the iMPC Pro 2, a game-changing music app designed to empower producers to create musical masterpieces on the go.
The iMPC Pro 2 app transforms your iPad into a versatile musical powerhouse. It offers a seamless way to sample music files, thanks to an internal turntable that also provides pitch adjustment capabilities. Though the sample time is around 9 seconds, it's sufficient for basic arrangements and sketching out musical ideas. Furthermore, the app allows you to load your own Drum Sample Kits from your sound library, enabling you to harness your creativity with ease. It's basically a MPC 2000XL that fits your go-bag for beats on the fly.
One of the standout features of the iMPC Pro 2 app is its ability to capture your musical inspirations wherever they strike. Whether you're on a train, bus, or in the studio, the app lets you quickly capture your creative ideas and convert them into fully-fledged tracks. No longer will you lose that brilliant melody or rhythmic pattern that pops into your head at the most unexpected moments.
The iMPC Pro 2 app also seamlessly integrates with MPC Software, providing compatibility with MPC Renaissance and MPC Studio. This means you can export your tracks to the software for further refinement, polishing, and full-fledged production. In addition, Akai Pro offers the MPC 2K App for PC and Mac, which allows you to create MPC Drum Programs that can be loaded onto the original MPC 2000XL drum machine hardware. This integration between modern technology and the iconic hardware brings a fresh dimension to your musical journey. Perfect for capturing those musical ideas that can come at anytime, day or night.
iMPC Pro 2 App Description by Akai Pro: Turn your iPad into an MPC. With more than 1,200 samples, 50 editable programs, 80 editable sequences, and iconic MPC workflow, iMPC is the first app to bring all the functionality of a classic Akai Pro MPC to your iPad. Developed in partnership with Retronyms, iMPC includes everything you need to create a beat quickly and easily, including built-in effects, plus the ability to create new sequences and record and overdub beats.
Time correction from 1/8 note to 1/32T with variable swing, and Note Repeat from 1/8 note to 1/32T with latch control are also built in. The app's built-in sampler can record samples three different ways: using the mic on the iPad, using the line input on the iPad, or using the multi-touch turntable interface in iMPC to record samples directly from iTunes or other music libraries.
IMPC PRO 2 App Jazz Boom-bap Beat-making by Dizzy The Kid | YouTube How To Beat Video
Published in September 2022: IMPC PRO 2 App Jazz Boom-bap Beat-making, Produced by Dizzy_the_kid.
Akai Pro's iMPC Pro 2 app is a testament to the brand's commitment to innovation and excellence in music production. With more than 1,200 samples, 50 editable programs, and 80 editable sequences, the app mirrors the functionality of a classic Akai Pro MPC while leveraging the power and convenience of the iPad. The app is developed in partnership with Retronyms, a collaboration that has resulted in an intuitive user experience, seamless effects integration, and a user-friendly interface.
Unlock your creative potential, experiment with sounds, and produce your next hit track with the Akai Pro iMPC Pro 2 app. Whether you're an established producer or an aspiring artist, this app empowers you to craft music with precision, passion, and the distinctive Akai Pro touch. Get ready to reshape your musical journey and make history with the iMPC Pro 2 app.
Boom Bap Beat Maker Tip: The type of drum sounds you select and the drum patterns you program are critical when making authentic boom bap beats. The samples you select also play an important part in the sound. Jazz, piano, dark and/or soulful samples tend to work well. To update or modernize the sound of your boom-bap, try adding neo-soul organic timing to the top end of your drums. If you are someone looking to perfect the boom-bap sound as a beat maker or music producer, Big Noise has the resources you need to deliver the goods. Video tutorials, hip hop drum samples, soulful sound packs and a niche collection of analog audio gear. All part of the select offerings designed to help you achieve success, at a level of quality that sets you apart from the competition.