Akai Pro Releases "iMPC" Music Production App For The iPad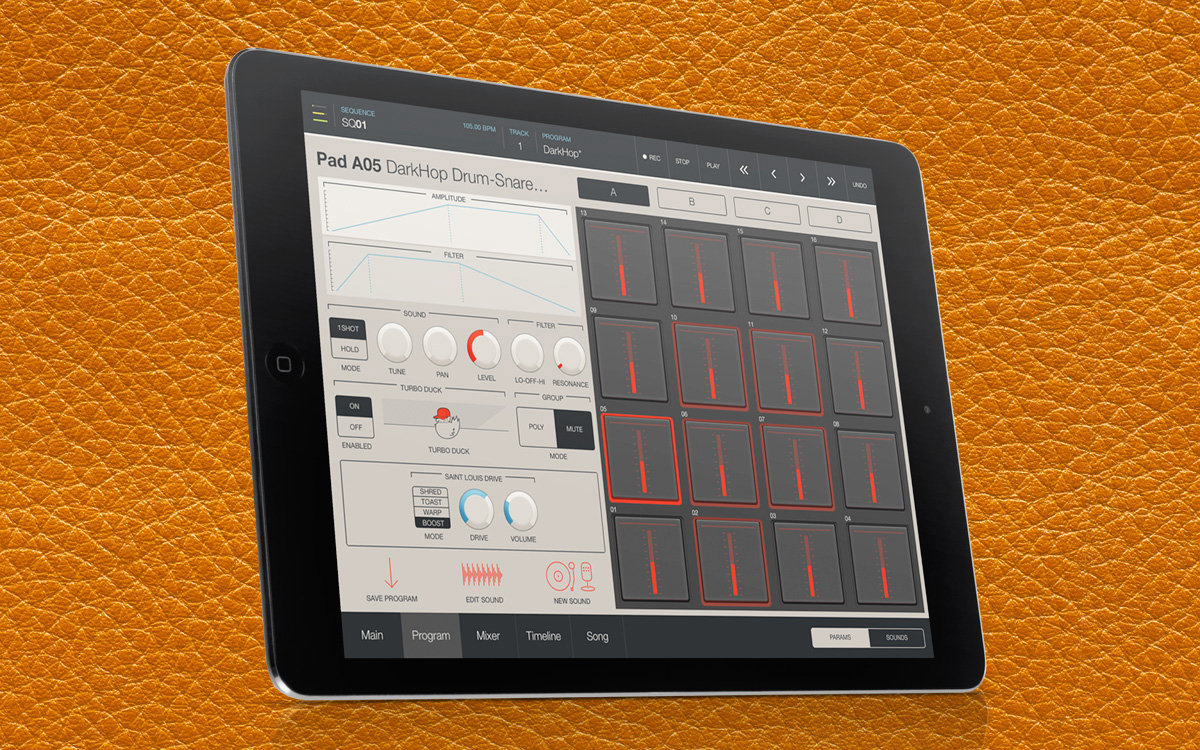 Akai Pro Releases "iMPC" Music Production App For The iPad
The legendary performance, timing and sound generated by Akai's family of MPC's (Music Production Center) continues to gain popularity with producers young and old. There has been a resurgence back to the hardware as new-school producers learn that the timing and sound generated by the original drum machine is much better then software sequencers. Having said that, there is still definitely an effective use for software beat machines in your production environment. Workflow within the BOX is much more efficient when it comes to arraigning sounds, sketching out beats or tracks. This latest iMPC offering by Akai Pro looks like a great platform for working out musical compositions while on the go.
The iMPC App allows you to sample music files of your choice with an internal turntable providing pitch adjust. The sample time is only around 9 seconds, but that should be okay for basic arraignments. You can also load your own Drum Sample Kits from any sound library via sound files. Some of the best ideas come when you least expect… on the train, the bus, on the road, late night at the studio – with this MPC App you can capture you ideas as they happen. Your next hot beat is now noted and ready for studio production. You can also export tracks to MPC Software for use with MPC Renaissance and MPC Studio to complete your work.
Further more, once your ideas are crafted you can use the MPC 2K APP to create MPC Drum Programs that can be loaded into the original MPC 2000XL drum machine hardware. This 100% FREE App that runs on the PC or MAC allows you to take WAV or Sound files, drag and drop them, and assign your sounds to the MPC pads across all 4 banks. A total of 64 sounds! You can then save the Akai Drum Programs to media of your choice and load them directly to the MPC and complete your project with that authentic sound and feel!
Akai Pro: Turn your iPad into an MPC. With more than 1,200 samples, 50 editable programs, 80 editable sequences, and iconic MPC workflow, iMPC is the first app to bring all the functionality of a classic Akai Pro MPC to your iPad. Developed in partnership with Retronyms, iMPC includes everything you need to create a beat quickly and easily, including built-in effects, plus the ability to create new sequences and record and overdub beats. Time correction from 1/8 note to 1/32T with variable swing, and Note Repeat from 1/8 note to 1/32T with latch control are also built in. The app's built-in sampler can record samples three different ways: using the mic on the iPad, using the line input on the iPad, or using the multi-touch turntable interface in iMPC to record samples directly from iTunes or other music libraries.
iMPC App Review & Tutorial by Marcelandrie | YouTube How To Video
Marcelandrie's review on the Akai iMPC App for the iPad. The iMPC could potentially change the way MPC users sketch out their pieces, the power of the app, and how it pays homage to the legendary MPC 2000XL.