Producer by Ray West "LUV NY Collective" via Red Apples 45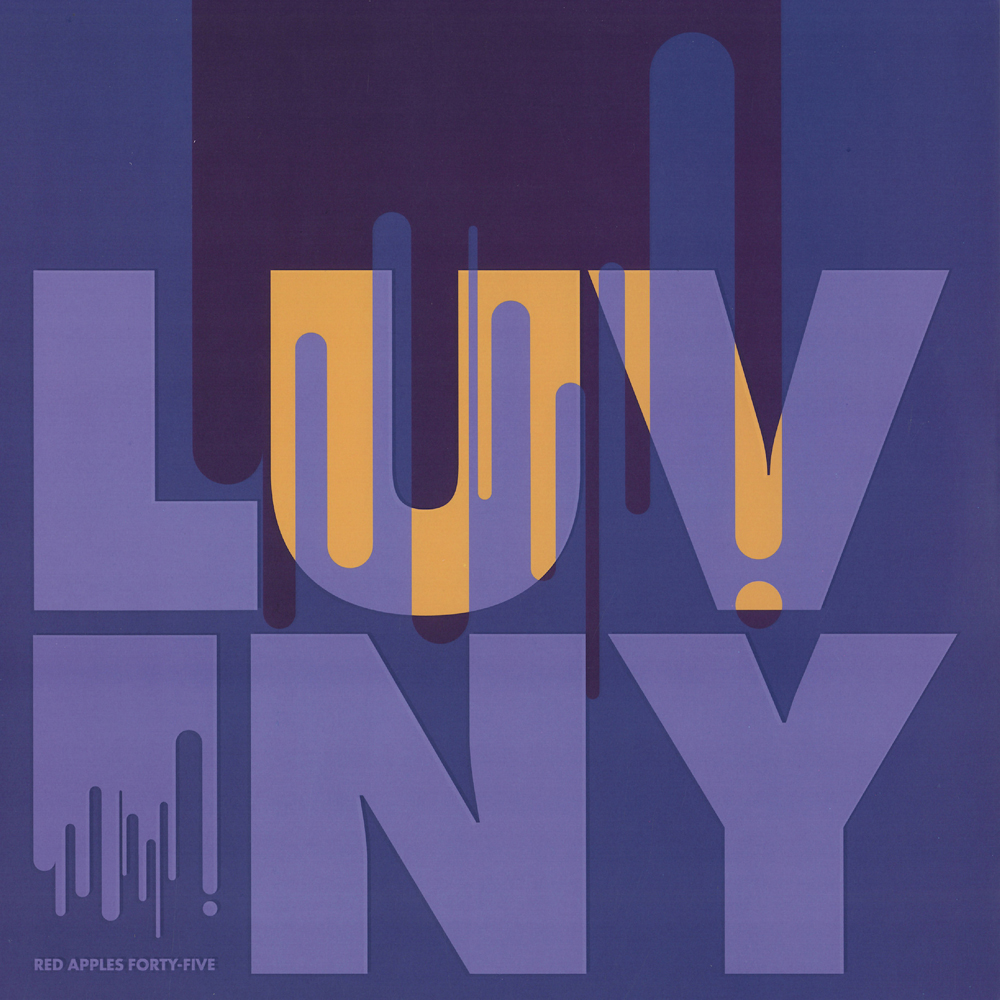 Producer by Ray West "LUV NY Collective" via Red Apples 45
New York is arguably the epicenter of hip hop culture. Although hip hop is currently a global phenomenon, hip hop music and culture evolved in the South Bronx. The LUV NY collective is a crew dedicated to the sharing, knowledge and understanding of pure hip hop. The crew consists of legendary artists in New York hip hop including Roc Marciano, Kool Keith, A.G. & O.C. (from D.I.T.C.), and Kurious. The group speaks on topics such as the commercialization of hip hop, incarceration rates, and Egypt. With a diverse range of topics, the crew is relentless with their lyrics and delivery. They are a testament to pure New York Hip Hop.
The flow of the "LUV NY Collective" is unbelievable, Ray West delivers the business with this roster of emcees. These cats are able to deliver stories of urban experience using idioms. The rhyming technique is way beyond complex and also includes heavy use of metaphors. The production explores smooth melodic piano loops combined with atmosphere and ambiance. This includes heavy sampling of mellow vibes, traffic sounds and dialogue. There's an intentional subtlety regarding the drums, adding to the mellow vibe.
About The Group: LUV NY is the super group consisting of Roc Marciano, Kool Keith, A.G. & O.C. (from D.I.T.C.), Kurious, and produced by Ray West. Luv NY is what you get with the Bronx, Long Island, Brooklyn and Manhattan under the same banner. Historical figures of New York hip hop unite in this super group which they named Luv NY for the occasion. What can bring together Kurious and Dave Dar's farniente, Roc Marciano's minimalist and brilliant style, not to mention Kool Keith's unrestrained imagination, and the purism of DITC's A.G. and O.C.? The answer is a specific understanding of rap, an increased artistic acuteness, and common memories of how NY evolved and how the city shaped this culture.
Luv NY is a convivial album which renews a spirit one believed lost. The spirit of sharing, of conviviality, and of unadorned rap. While rap groups find it sometimes difficult to get together and meet again, why not create a new one? Luv NY recreates the dynamics which present days rap misses, that of associations and collective approach. Luv NY celebrates diversity in its own way. It s a tribute to this city's energy and its universality. While NY is no longer the same, it remains the epicenter of a specific energy, of a music and a culture, with which entire generations grew up. The purpose here is to revive the Big Apple, which let s not forget was the reference, the driving force, and the heart of this music and this culture.
NY indeed lost some of it's vigor, and it's soul, and NY rap just reflected this. Luv NY brings back to this NY where all could be done and undone at a street corner. Brings back to his energy, this atmosphere, the tale of a city which used to dictate codes, fashions and expanded its energy all over the country and the world. Far from gentrified rap, from rap that became middle-class, this is an album of unpretentious stories, unadorned stories, on etheral productions with a feel of memories of another city and other times. NY will never be the same again, let's celebrate what it used to be, let's cherish it for what it is and what it will be. And consider Luv NY as a manner of celebration.
Ray West "LUV NY Collective" Various Artists via Red Apples | Bandcamp Audio
Published in June 2015: LUV NY "LUV NY Collective" Produced by Various Artists, Released by Fat Beats & Red Apples 45, Audio Stream via Bandcamp.
TRACK-LIST:
01. "INTRO"
02. OC "LEGACY FLAG"
03. AG & ROC MARC "EYGYPTOLOGY"
04. DAVE DAR , KURIOUS & AG "SNAKE CHARMER"
05. KOOL KIETH & AG "EXTREME STATUS"
06. SEAN G "THE RITUAL"
07. KURIOUS "SHORTIES WATCHIN"
08. AG "THESE RAPPERS UNDER THE HEX"
09. "LAST NIGHT FINESSE"
10. KOOL KIETH "I BEEN LUVIN U"
11. KOOL KIETH & ROC MARC "PRESURE UP"
12. AG & ROC MARC "THE BLUES GOT YA"
13. OC "ACID"
14. AG "RANDOM"
15. BX "INTRO"
16. KOOL KIETH & KURIOUS "DONT KNOW Y"
17. AG , KURIOUS & DAVE DAR "SNAKE CHARMER Part 3"
18. "ROLE CALL"
19. "AHEAD OF TIME"
20. L FUDGE & DAVE DAR "HITMEN"
21. L FUDGE & DAVE DAR "STEREO TYPES"
22. DAVE DAR "ME AND MINE"
23. AG "TRUTH REMIX"
24. LORD TARIQ & AG "ITS ALL BAD"
Note From The Editor: If you're looking for that hard hitting boom bap, heavy on the drums, sliced up soul chops, this may not be one of those albums. This project is chalked full of smooth vibes and jazzy influence, mellow ambiance, piano loops and subliminal tones. No doubt 100 percent hip-hop by any measure! The cast of emcees is impressive, supporting the notion that Ray West is a heavy hitter in regard to accomplishments and access to tight rosters. This album explores the introspective thoughts of self and life, as the NY squad shares their universal experience. Walk with them as they transcend the norm; easy on the ears, heavy on the mind, this project will expand your hip-hop experience.