DJ Lord Ron Exclusive Big Noise Interview 2015 Ear To The Street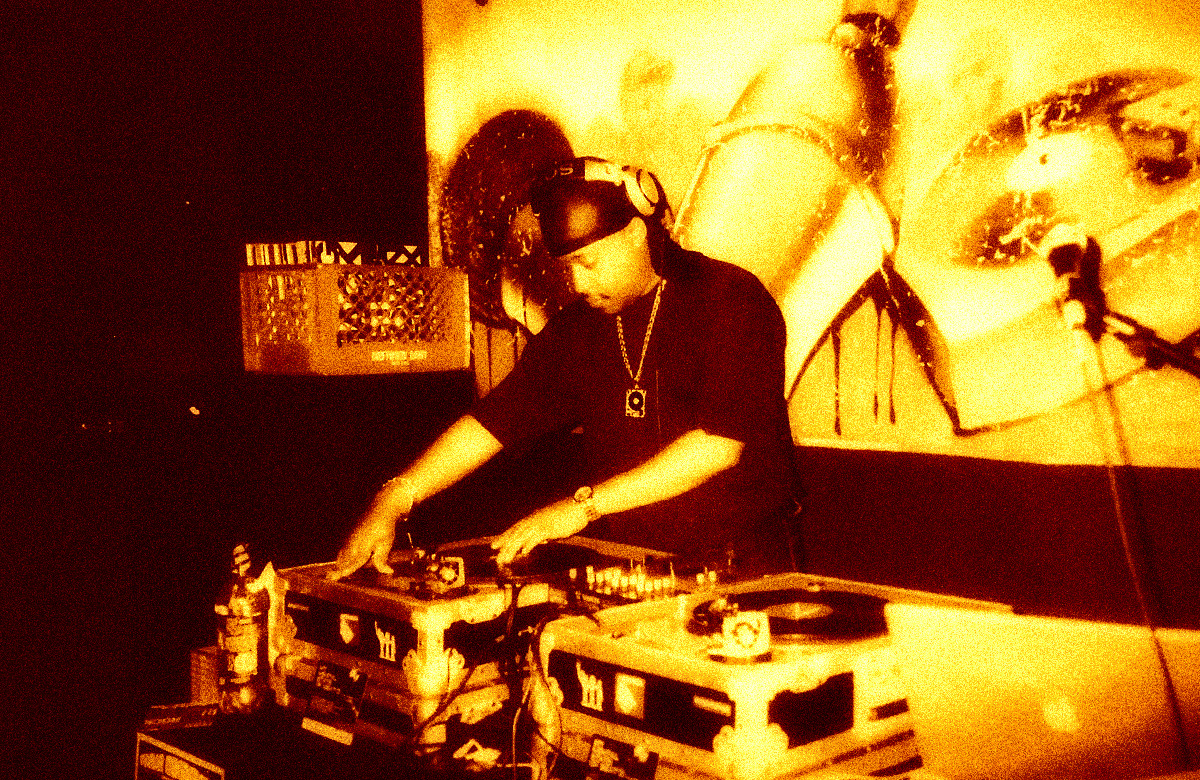 DJ Lord Ron Exclusive Big Noise Interview 2015 Ear To The Street
Hailing from the Golden Sate, DJ Lord Ron has cultivated a long history within the hip-hop community. Down with the Zulu Nation, he's been blessed to work with some hip-hop legends. Among them, the late great Guru (Gifted Unlimited Rhymes Universal) aka Gang Starr. We organized a session of DJ Lord Ron interview and chopped it up with him regarding some of the projects on his radar screen for 2015.
Q. Big Noise: Yo, peace everybody, and welcome to todays sesion of DJ Lord Ron interview. what's good family, what you been up to?
A. DJ Lord Ron: Peace, peace fam bam. Just staying in my lane bruh and enjoying my life. The valley highs and valley lows I'll be. And before we continue, I mos def want to thank Big Noise Radio for the support over the years. It's appreciated.
Q. Big Noise: We last spoke with you in 2011 at the last edition of the DJ Lord Ron interview! What have you been listening to these days?
A. DJ Lord Ron: Depends on my moods but of late, like right now as I'm doing this interview. I got on the soundtrack album produced by Curtis Mayfield entitled "Short Eyes". Earlier I was listening to Tha Dogg Pound's album, "Dogg Food". I don't think Daz get's enough credit as a producer. I like Lion Babe and ya know the young lady in the group is Vanessa Williams daughter. Maaaaan, classic rock joints from the 70's and disco funk, plus The Cinematic Orchestra.
Q. Big Noise: Hip-hop enthusiasts are witnessing a renaissance within underground hip-hop. Your thoughts?
A. DJ Lord Ron: Just as long as their music is dope and they respect the elements of the culture. It's a good look for the culture. This is how tradition maintains. But all in all. I stay focused on what I do as a DJ and Producer. We have allot of people doing this hip-hop rap shit, these days. I'd like to see DJ's at the forefront, running their own crews, managing their own groups.
Q. Big Noise: Today's mainstream music experience seems to be lacking good soul music. Any comments?
A. DJ Lord Ron: It's been lacking for some years now. And I don't see it getting any better. The suit and ties have the power and until the people unite and say enough is enough. This soul-less cycle will continue. You see the age group they are marketing the music to. It's kids from at least 12 to 18. Their minds are still growing and they fall for anything. Parents must parent or the mainstream and everything in it will raise their kids. It's designed for self destruction, not self construction.
Q. Big Noise: How did the Guru tribute track "Propaganda" with Avrex & Big Shug come about?
A. DJ Lord Ron: Rest In Peace to Guru. The fam Avrex reached out to me two years ago about doing this but with new verses from him. I was done with it and told Avrex this cause this song was done already by Guru and myself in 2003 even though I didn't release it until around 2008 on my 2nd album, "My Mental State Of Beat'z (The Revisit)". plus it was released on cassette through Strictly Cassette.
Avrex wanted to pay homage to Guru plus do a music video and make sure the proceeds go to Guru's son. After a few phone calls. I told him I would do it. I sent him the tracks & we started building on it, took our time. Av knows Big Shug and Shug was with it too. During the music video shoot. Avrex chopped it up with Guru's sister named Trish, who did the video intro. The timing was right for everybody and here we are now. To all the fans of Guru. Please go and buy the single as the proceeds go to Guru's son.
Q. Big Noise: Can you tell us how long you've been working with Avrex? Where is dude from?
A. DJ Lord Ron: When I met Guru in 2003 and he started selecting beats from me. One of the beats was for Krumbsnatcha. The song became "Clack-Clack" and it was Krumb, Avrex, Black Jesus and Mendoughaz on it. Everybody did their thing but it was Avrex who stood out to me. He was around 16 or 17 at the time.
Krumb and Avrex are cousins. I met Krumb first in 2002, then Guru and then Avrex in 2003. That's the Boston connection right there with those 3. I still talk to Krumb from time to time & he's good. Avrex and I stayed in touched back then, and then he drifted off around 2006, but we got back in touch once Guru died. Avrex and I will be doing more joints.
Q. Big Noise: Did you guy's have to get permission from anybody before doing the project?
A. DJ Lord Ron: Guru and I went into the studio to record. The track was suppose to be on his Ill Kid imprint back in 2003. He was going to bring me on as a producer. Myself and Guru co-own the track. I still own the masters. We recorded both songs in Wishing Well studio in Burbank. Out of respect for Guru's son. Strictly Cassette and I decided to pay tribute by releasing it on tape only.
Q. Big Noise: Are you releasing an instrumental beat record this year, any details? Any vinyl planed?
A. DJ Lord Ron: Word up. Strictly Cassette will be distributing it exclusively. The beats are already done. 3 albums coming over a period of time. Raw, boom bap, for the tape collectors. Vinyl is in the plans as well.
Q. Big Noise: Any other projects coming out we should know about, what's going down?
A. DJ Lord Ron: Look out for the "Propaganda" cassette tape also. Guru, Avrex and Big Shug. Info soon on www.strictlycassette.net plus my OG family Barry "Shakesphere" Severe from The World Class Wreckin' Cru and I will get started on a documentary telling our story.
Q. Big Noise: What's your work ethic like when it comes to your brand, what can you tell us about it?
A. DJ Lord Ron: I'm very hands on with any projects I do, or are associated with. Multi-tasking is a strength for me. I know how to follow up and I promote through my social media at best. It's business and I respect it as such. I work weekly on something to keep the brand going. Allot of times I don't get into bed until about 1:00 or 2:00 a.m., that's weekly.
Q. Big Noise: Can independent artists or labels send you music for your mixes? How should they go about it?
A. DJ Lord Ron: Yes, send music to: djlordron@yahoo.com
Q. Big Noise: Favorite studio gear; what do you like to use during beat production besides the drum machine?
A. DJ Lord Ron: I like the SSL consoles but a dope engineer is important as well. Today's technology software for studio gear has made it easy but I still dig that analog sound compared to digital.
Q. Big Noise: Your all time favorite record or beat… you know, the one that always gets the party rocking?
A. DJ Lord Ron: It's too much dope music out there to really pin point an all time favorite. I read the crowd and go off their energy. I just try and come with the wickedness of fly joints.
Q. Big Noise: What do you think about the police brutality going on in our community today?
A. DJ Lord Ron: It's been going on for over 200 years. Now in the digital era, we can now see it on our phones. I don't like it at all. Something has to change with these police agencies regarding brutality, or America will feel the wrath of some powerful payback. Energy is a force not to be played with.
Q. Big Noise: Thank you very much for your time on todays session of DJ Lord Ron Interview! Any last words or shouts?
A. DJ Lord Ron: People still do shout outs?? Hahaha. Appreciate those who support and have supported me for 21 years. My String Note Recordings family, Rough Camp Productions family, Storage Room Ent., family, Pop Culturez family, Big Noise, Strictly Cassette, Dirty Crates and a big shout to one of my daughters, Kymiah. She wants to do this music thing. I will have new mixes coming soon and be sure to check out the fams DJ Double KK master mixes.
Guru Tribute Featuring Avrex & Big Shug "Propaganda" Prod by DJ Lord Ron
Published on April 2015: Guru Featuring Avrex & Big Shug "Propaganda" Produced by DJ Lord Ron, Released by Averex, Directed and Filmed by Ill Mannered, Edited by I.M. Video via YouTube.
About The Project: Boston native rapper Avrex puts Guru of Gangstarr on center stage. This unreleased re-edit Guru verse will bring you back to the boom bap. Propaganda is also shedding light on the negative and disrespectful approach producer Solar took towards Guru's family. "Save it for the birds/ I'll make your solar eclipse " says Avrex in "Propaganda"this is definitely a power bar. Combined with Avrex's clever word play and a solidified stamp from Big Shug (Co-Founder of Gangstarr) this is a classic record.
Produced by DJ Lord Ron (Long time friend of Guru) and an intro from Guru's beloved sister Patricia Elam this record is the definition of HIP HOP. The video has appearances from Ice-T, Sadat X (Brand Nubian), M-Dot (EMS) and many more underground favorites.