Hip Hop Artist Supastition "Best Worst Day" Off The Blackboard EP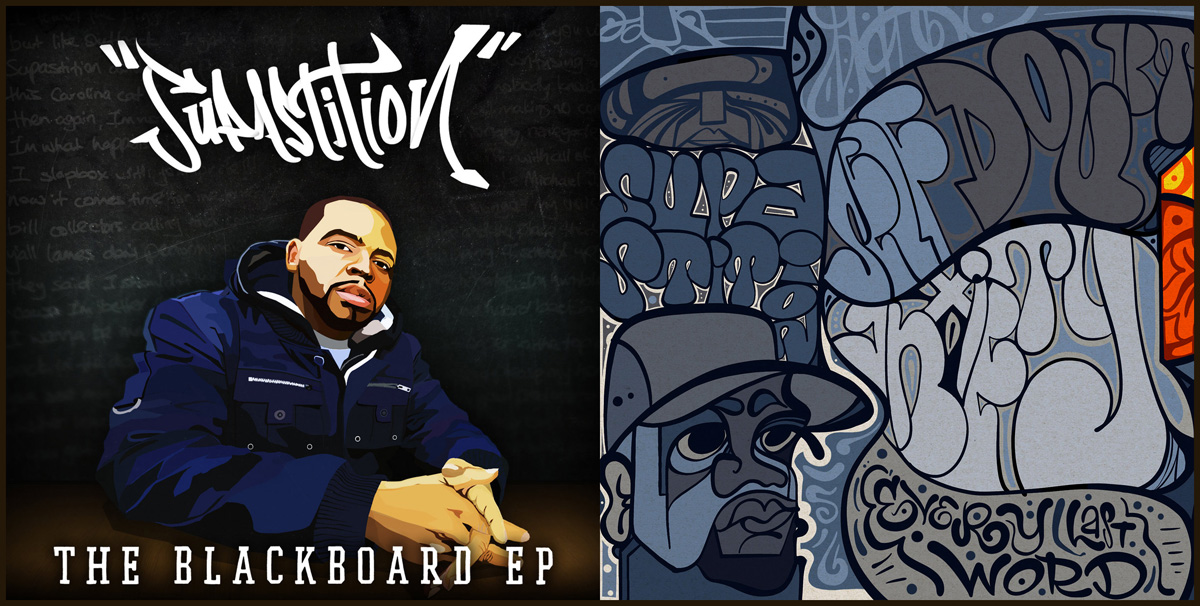 Hip Hop Artist Supastition "Best Worst Day" Off The Blackboard EP
North Carolina's very own hip-hop Artist Supastition releases a free 8-track digital EP titled "The Blackboard EP". The project serves as a "thank you" to all the listeners who continued to support his music after his sudden departure from the music business in 2010. The Blackboard EP generally talks about returning to the basics of emceeing and also rediscovering the mind-blowing vintage sound of which Supastition has been known for since his debut album in 2002.
The project features the critically acclaimed, Yada Yada, the conceptual Best Worst Day, and the boom bap inspired "Indestructible". The guest appearances on albulm are DJ duo, Faust & Shortee, and Dominique. Production on the EP is handled by longtime producers Marco Polo, M-phazes, Veterano, the Mighty DR, and Croup as well as Rik Marvel and Dirty Art Club.
Best Worst Day was produced by one of North Carolina's finest hip hop music group Dirty Art Club. The single was first released on "The Blackboard EP" (Digital) and the updated "The Blackboard Deluxe Edition" (CD). The whole story begins as Supastition starts his day feeling refreshed and motivated. Little did he know that this could possibly be the worst day of his life.
Atlanta Emcee Supastition "Best Worst Day" Off The Blackboard EP | Music Video
Supastition "Best Worst Day" video directed by Shamus Coneys prod. by Dirty Art Club.
Lyrics: When I woke up today, I felt incredibly refreshed
feeling more blessed than ever with no head full of stress
I was comfortable but calm in my warm spot
didn't even abuse the snooze button on my alarm clock
sun's shining through the burgundy drapes
my lady wasn't next to me, I guess she's working today
I'm accustomed to looking her in the face at 7 AM
one particular person you see day out and day in
anyway, I felt like this day may never come again
I need breakfast I heard my stomach rumbling
no stumbling, I jumped out of bed in my boxers
my mission's to the kitchen for that leftover pasta
but stopped in my tracks in the middle of my living room
I saw my girl curled up crying, looking pitiful
surrounded by a room full of trash bags and living boxes
I started thinking 'bout the dirt that I've been doing (ah shit!)
I must be busted, I tried to ask her what's wrong
she wouldn't even look in my direction, no discussion
was it some romance with one of them fucking tramps?
or last night did I go on one of my drunken rants?
I said "fine. you wanna treat me like I'm not here
and act like you can't answer a question? fuck if I care!"
the best thing to do in this situation is leave home
but quickly noticed both my smartphone and my keys gone
"yo! where the hell are my keys?" but still she ignored
fuck it, I'm walking up to the corner Korean store
for a bag of chips and coconut juice
to clear my mind and give us time that both of us can use
the stores close to my crib, a few feet at least
but the store owners they be peeping me repeatedly
I walked in, no "buzzer" (niggas), nobody greeted me
for once they ain't treat me like I was scheming on thievery
I grabbed a bag of Sun Chips and proceeded to the counter
this jerk of a clerk looked at my items dumbfounded
then snatched it off the counter yelling in some native fast talk
I said "I'm never coming back in here. That was the last straw!"
what a shitty day it's been thus far
man, this can't be the type of day I woke up for
I hopped on the city transit, today's pretty frantic
it started sublime then declined, don't understand it, man
the only place to find peace, the only better choice
to seek solace is the vinyl and the record store
plus that Brother Ali record I'm checking for
the atmosphere felt different when I stepped through the door
the music was low and it's hard to hear
the record store, yo it was like a graveyard in there
I stepped outside wondering how could this day have gone wrong
but then a Chevy passed by with my song on
the local radio station they had my song on
that's when I knew something was horribly wrong, homes
'cause they don't play no local music if it's homegrown
a motherfucker gotta be dead or long gone,
shot up or murdered? wait… what!
I jetted back in the store, I'm searching for the Charlotte Observer
feeling faint, nauseous, and nervous
no wonder why nobody even noticed me, paid attention, or turn heads
I started panicking as I was thinking back again
stiff as a mannequin like "yo, this can't be happening"
picked up the paper and the caption read after my name
in bold black lettering… LOCAL RAPPER SLAIN. damn!